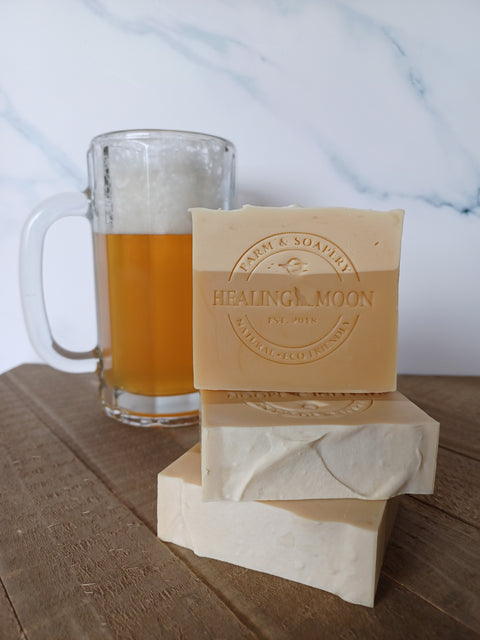 Healing Moon Farm & Soapery
Dragon Volant Beer Soap
Vegan - Beer - Citrusy - Buttery - Palm Free
Experience the wallop of the Prestonrose Dragon Volant beer in soap form! Our collaboration with Prestonrose Farm and Brewing Co. yields an ultra-silky lather derived from this annual French farmhouse Saison. Extracts of trifoliate bitter oranges, Alabama Satsuma oranges, and California Meyer lemon combine with mango butter, vitamin E, and essential oils for a unique, beer-like citrusy scent. 100% palm-free. 
Key Ingredients:
Prestonrose Dragon Volant Beer
Mango Butter
Vitamin E
Organic Peppermint Essential Oil
Sweet Orange & Litsea Cubeba Essential Oil
Ginger & Pine Needle Essential Oil
Palm Free
Please note: This is the only product we make that has gluten (due to the beer ingredient). It is made on separate equipment with thorough allergen cleaning in between batches to prevent cross-contact with our gluten free soaps. This soap is not recommended for those with Celiac disease. 
Our Eco-Friendly Commitment
All soaps come shrink wrapped for freshness in 100% home compostable, oxo-biodegradable, food safe, Biolefin™. This shrink wrap decomposes in 3-5 years compared to most shrink wrap plastics which take decades in the landfill. Our labels and their adhesive are made from sugarcane.
We ship products in compostable, recycled mailers using carbon-neutral shipping. From the packaging to the soap itself, everything is biodegradable and eco-friendly. We love our environment!
Ingredients
Ingredients: organic coconut oil, organic canola oil, beer, organic olive oil, sodium hydroxide*, mango butter, castor oil, sweet orange essential oil, organic peppermint essential oil, litsea cubeba essential oil, ginger root oil, pine needle essential oil, vitamin E, sodium lactate, and titanium dioxide
*None remains in final bar
Read more about our sustainable and eco-friendly ingredients
Our standard soaps measure approximately 3 inches x 3 inches x 1 inch. Because soaps are handmade, sizes and colors may vary slightly. Our soaps weigh 4.5oz on average. Due to the use of natural ingredients, you may notice scent and color fade over time, learn more on our FAQs page.