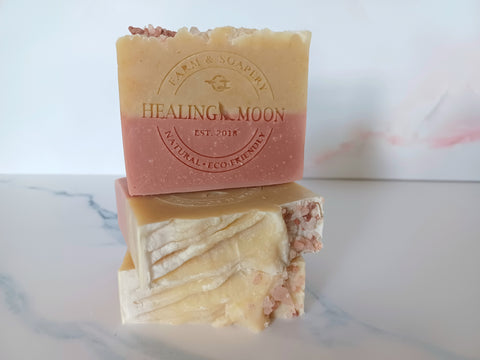 Healing Moon Farm & Soapery
Summer Sunset
Vegan - Orange - Grapefruit - Helichrysum - Mango Butter - Palm Free
Summer Sunset soap is made with the perfect summer blend of essential oils, mango butter, vitamin E, rose clay, and pumpkin. Made to look like the colors of a sunset sky, its unique scent elicits a perfect summery feeling. You'll feel like you are on vacation at the beach when you use this soap! There is a light sprinkle of Himalayan pink salt across the top for gentle exfoliation (no pink salt is inside the bars).
Key Ingredients:
Orange, Grapefruit & Helichrysum Essential Oils
Himalayan Pink Salt
Mango Butter
Vitamin E
Rose Clay
Pumpkin 
Palm Free
Our Eco-Friendly Commitment
All soaps come shrink wrapped for freshness in 100% home compostable, oxo-biodegradable, food safe, Biolefin™. This shrink wrap decomposes in 3-5 years compared to most shrink wrap plastics which take decades in the landfill. Our labels and their adhesive are made from sugarcane.
We ship products in compostable, recycled mailers using carbon-neutral shipping. From the packaging to the soap itself, everything is biodegradable and eco-friendly. We love our environment!
Ingredients
Ingredients: organic coconut oil, organic canola oil, purified water, organic olive oil, sodium hydroxide*, mango butter, castor oil, orange essential oil, grapefruit essential oil, helichrysum essential oil, vitamin E, sodium lactate, rose clay, and pumpkin
*None remains after saponification of oils
Read more about our sustainable and eco-friendly ingredients
Our standard soaps measure approximately 3 inches x 3 inches x 1 inch. Because soaps are handmade, sizes and colors may vary slightly. Our soaps weigh 4.5oz on average. Due to the use of natural ingredients, you may notice scent and color fade over time, learn more on our FAQs page.
These statements have not been evaluated by the FDA. This product is not intended to diagnose, treat, cure, or prevent any diseases or conditions. Please consult your doctor if you have any concerns.