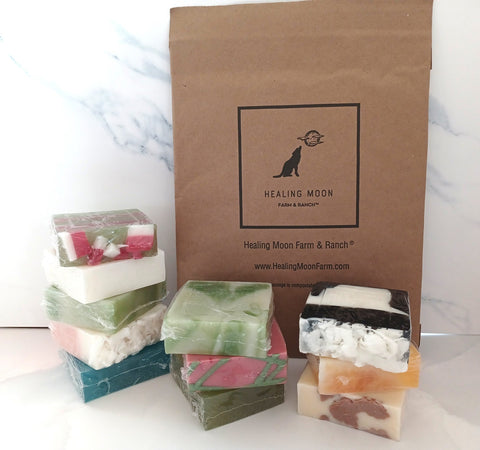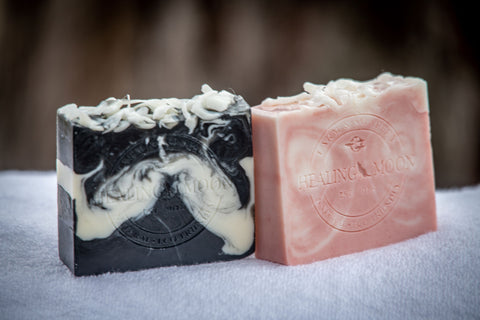 Healing Moon Farm & Soapery
Handmade Soap Monthly Subscription
Natural - Moisturizing - Handmade - Vegan
Love our soaps but keep forgetting to order when you run out? Now you can sign up for a monthly subscription of up to 4 soaps at a time! We will hand pick our favorite soap(s) of the month, pack them in our branded eco-friendly packaging and ship directly to your doorstep.
Plus, save when you subscribe!
We do our best to send different soaps each month based on inventory, but you may receive the same type of soap within the same year. Each package contains a variety, no repeats!
The subscription will automatically charge your card and fulfill your order on the same day every month. You can manage, skip a month, or cancel your subscription at anytime in your customer account (no hidden fees and no penalties).
Our standard soaps measure approximately 3 inches x 3 inches x 1 inch. Because soaps are hand cut, sizes may vary slightly. Our soaps weigh 4.5oz on average.
Our Eco-Friendly Commitment
All soaps come shrink wrapped for freshness in 100% home compostable, oxo-biodegradable, food safe, Biolefin™. This shrink wrap decomposes in 3-5 years compared to most shrink wrap plastics which take decades in the landfill. Our labels and their adhesive are made from sugarcane.
We ship products in compostable, recycled mailers using carbon-neutral shipping. From the packaging to the soap itself, everything is biodegradable and eco-friendly. We love our environment!