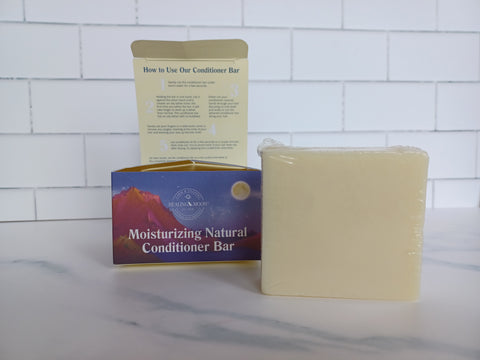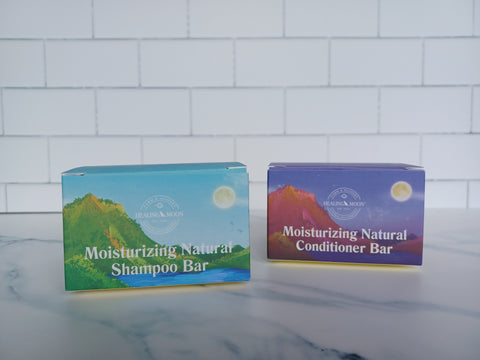 Healing Moon Farm & Soapery
Moisturizing Natural Conditioner Bar
Vegan - Protein Free - pH Balanced - NO Sulfates - NO Parabens - Waterless - Color Safe
Healthy hair is all about the correct protein/moisture balance for your hair type. This balance is different for every individual. 

Our moisturizing shampoo and conditioner bars are hydrolyzed protein-free with a focus on moisturizing and protecting damaged/protein sensitive hair. 
We use all-natural and plant-based ingredients with a combination of the right vitamins and essential oils to bring your hair the very best.
Our shampoo and conditioner bars are..
Protein-free
pH balanced
Color-safe
DO NOT CONTAIN sulfates, formaldehyde, parabens, synthetic fragrance, petroleum or preservatives
Vegan
Natural Ingredients
Handmade with Love
 Key Ingredients
Colza plant-based Conditioner

Shea Butter
Cocoa Butter
Mango Butter
Argan Oil
Jojoba Oil
Avocado Oil
Rice Bran Oil
Lavender, Vanilla, Rosemary, Patchouli and Tea Tree Essential Oils
Our conditioner bars have a natural creamy lather with no bubbles. Shampoo and conditioner bars last much longer than bottled shampoo/conditioners.
How long they last will depend on length of your hair and how frequently you wash. Be sure to set shampoo and conditioner bars on a dry soap saver between uses to extend their life. Bars typically last 4-6 months. 
We recommend supplementing your hair with protein as needed for your hair type.
Our Eco-Friendly Commitment
Bars come shrink wrapped for freshness in 100% home compostable, oxo-biodegradable, food safe, Biolefin™. This shrink wrap decomposes in 3-5 years into beneficial biomass (NOT microplastics) compared to most shrink wrap plastics which take decades in the landfill. Our labels and their adhesive are made from sugarcane.
We ship products in compostable, recycled mailers using carbon-neutral shipping. From the packaging to the soap itself, everything is biodegradable and eco-friendly. We love our environment!
Ingredients
Ingredients:
Conditioner bars are 4 oz.
Ceatearyl & Cetyl Alcohol: Non-drying coconut-based fatty alcohols that moisturize hair Behentrimonium Methosulfate: NOT a sulfate! Gentle cleanser and conditioner from the colza plant Butylene Glycol: plant-based humectant (moisturizer) Sodium Lactate: salt of lactic acid, made from corn or beets
Conditioner Bar: behentrimonium methosulfate, cetyl alcohol, butylene glycol (plant-based), shea butter, mango butter, cocoa butter, sodium lactate, argan oil, jojoba oil, avocado oil, rice bran oil, organic lavandula agustifolia (lavender) essential oil, vanilla planifolia fruit (vanilla) extract, Salvia rosmarinus (rosemary) leaf oil, Pogostemon cablin (patchouli) essential oil, Melaleuca Alternifolia (tea tree) Leaf Oil
How to Use
How to Use Our Conditioner Bar
Gently run the conditioner bar under warm water for a couple seconds
Holding the bar in one hand, rub it against the other hand until it creates an oily lather (note: the first time you lather the bar, it will take longer to work up a lather than normal. The conditioner bar has a creamy lather with no bubbles)
Either run your conditioner covered hands through your hair (focusing on mid shaft and ends) or run the lathered conditioner bar along your hair.
Gently use your fingers or a wide tooth comb to remove any tangles. Starting at the ends of your hair and working your way up the hair shaft.
Let conditioner sit for a few seconds to a couple minutes, then rinse out. You're done! (note: if your hair feels oily after drying, try using less of the conditioner bar next time)