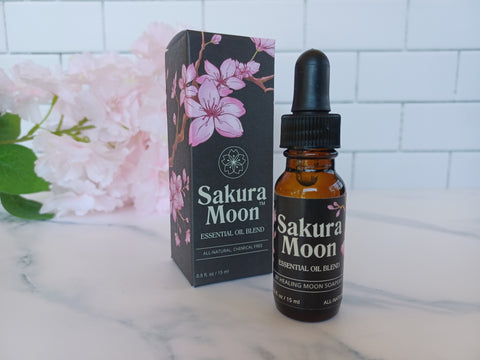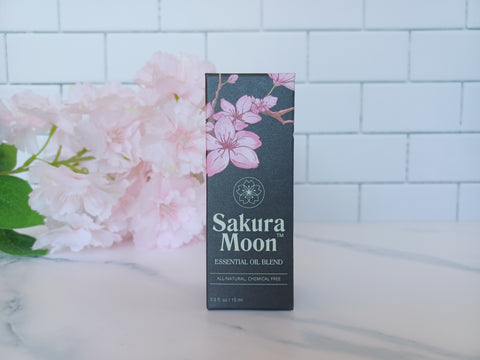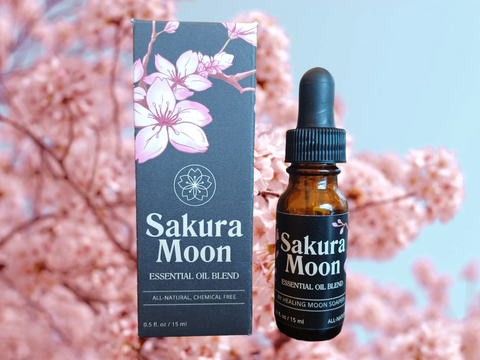 Healing Moon Farm & Soapery
Sakura Moon Essential Oil Blend
Japanese Cherry Blossom Essential Oil Blend
花見 ("hanami") or flower-viewing is the Japanese custom of enjoying 桜 ("sakura") or cherry blossoms. Sakura are often featured in poetry and pop culture as a symbol of beauty and femininity. However, the flowers themselves are far too delicate to extract the scent from successfully. True Sakura extract has very little to no smell, and if you look to purchase Sakura essential oil online, you will find many synthetic fragrance oils masquerading as pure essential oils.
This set us on a mission to create a safe, non-toxic and all-natural essential oil blend! 
Inspired by the "Japanese Cherry Blossom" fragrance, we decided to work with an organic chemist to mimic its scent using only the highest quality, natural essential oils. After many months of trial and error, we finalized our very own essential oil blend called Sakura Moon™. 
Our Sakura Moon™ essential oil blend radiates warm, woodsy, and floral tones. You can compare it to the Bath & Body Works fragrance "Japanese Cherry Blossom". We worked hard to layer bottom, heart and top notes so the scent naturally evolves as its worn or diffused. 
Top Notes: Wild Chamomile, Mandarin, Neroli
Heart Notes: Jasmine, Blue Lotus, Rose, Bay Leaf, Lavender
Bottom Notes: Sandalwood, Vetiver, Vanilla, Cedarwood
This is a pure, undiluted essential oil blend made from all-natural oils that are QC tested in a GMP certified facility in the USA. Our oils are 100% gluten-free, vegan, cruelty-free, natural, non-GMO and sourced from sustainable farms. Please dilute oils properly prior to use. 
We currently only offer this essential oil blend in a 15 ml / 0.5 fl. oz size. Interested in carrying our oil in your store? See our wholesale page. 
Our Eco-Friendly Commitment
Our essential oils are all-natural, synthetic chemical-free, and fully biodegradable. The amber glass bottles are reusable. The bottle label and box are compostable and printed on with plant-based inks.
We ship products in compostable, recycled mailers using carbon-neutral shipping. From the packaging to the oils themselves, everything is biodegradable and eco-friendly. We love our environment!
Ingredients
Ingredients: Nymphaea coerulea (blue lotus) flower extract, jasminum officinale (jasmine) flower extract, citrus aurantium amara (neroli) flower oil, rosa damascena (rose) flower oil, juniperus virginiana (cedarwood) oil, laurus nobilis (bay leaf) oil, vanilla planifolia (vanilla) fruit extract, anthemis nobilis (wild chamomile) flower oil, lavandula angustifolia (lavender) flower oil, citrus aurantium dulcis (orange) peel oil, citrus reticulata (mandarin) peel oil, santalum album (sandalwood) oil, and vetiveria zizanoides (vetiver) root oil
These statements have not been evaluated by the FDA. This product is not intended to diagnose, treat, cure, or prevent any diseases or conditions. Please consult your doctor if you have any concerns.
How to Use
This essential oil blend is pure and undiluted.
For topical use: dilute in a carrier oil. Recommended dilution ratio for topical use of essential oils is 0.5%-3% essential oil.
For aromatherapy use: use the included dropper to add a few drops of essential oil to your water-filled diffuser.