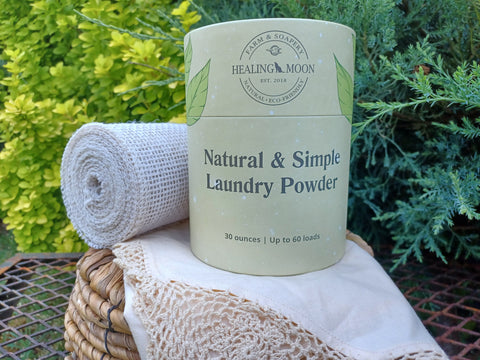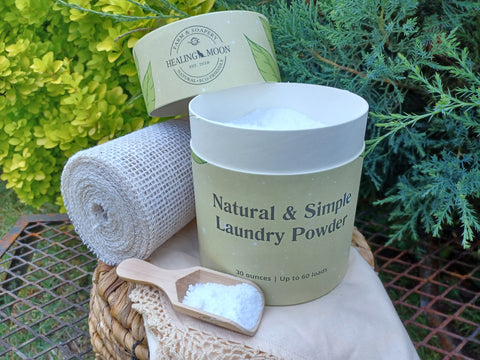 Healing Moon Farm & Soapery
Natural & Simple Laundry Powder
Natural & Non-Toxic Laundry Powder
Our Natural & Simple Laundry Powder is made with clean, natural ingredients so you can be sure you're washing your clothes with only the best. Free from:
Perfumes
Dyes
Petrochemicals
Detergents
Formaldehyde
Phthalates
Optical brighteners
1,4 Dioxane
This laundry powder provides a non-toxic and effective clean for all types of delicate fabrics. Scented with pure essential oils and certified entirely cruelty-free, this gluten-free formula is gentle on the skin and wont leave any toxic chemical residue in your clothes or machine. 

Our handmade laundry powder comes in a compostable tube, printed on with plant-based inks, and contains a reusable wooden scoop. We handcraft all of our products in Arkansas. 
If you would like a custom essential oil scent, please select "custom blend" from the drop down and include the requested blend in your order notes. We will do our best to fulfill your request but may reach out via email if we do not have the requested oils in stock. 
To learn more about natural laundry powder, check out our blog post: 5 Reasons to Choose Natural Laundry Powder
Our Different Essential Oil Scents
Sakura Moon: Made from our very own signature essential oil blend to mimic the scent of cherry blossoms. Top notes of Wild Chamomile, Mandarin, Neroli. Heart Notes of Jasmine, Blue Lotus, Rose, Bay Leaf, Lavender. Bottom Notes of Sandalwood, Vetiver, Vanilla, Cedarwood. All pure essential oils, no fragrance!

Eucalyptus Mint: Bright, airway clearing eucalyptus and peppermint is sure to leave your clothing smelling clean and fresh.

Bulgarian Lavender: Organic Bulgarian lavender essential oil is perfect for a calming smell that relaxes the nerves and soothes the wearer.

Custom Blend Request: We can add any essential oil combination you would like! Be sure to list your request in the order notes before placing your order and we will do our best to fulfill it. If we do not have those oils on hand we will email you to discuss substitutions.

Unscented: No essential oils added. You can use it without the essential oils OR add your own!
Our Eco-Friendly Commitment
Our laundry powder is handmade with natural and readily biodegradable ingredients. It comes in a compostable tube, printed on with plant-based inks, and with a reusable wood scoop. All of our products ship carbon-neutral in eco-friendly packaging.
Ingredients
Ingredients: Sodium carbonate (washing soda), sodium bicarbonate (baking soda), magnesium sulfate (epsom salt), Mediterranean sea salt, and essential oils