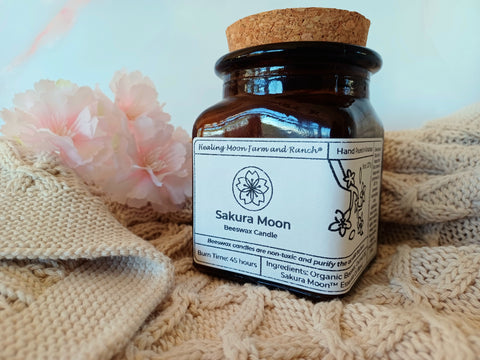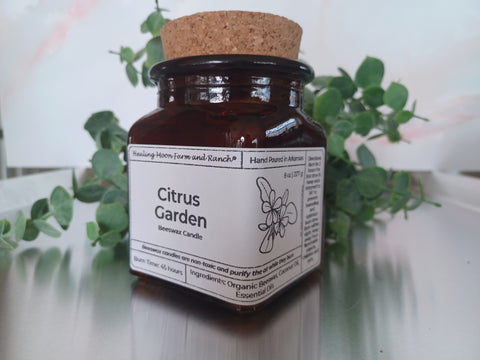 Healing Moon Farm & Soapery
Beeswax Candles with Essential Oils
Natural & Non-Toxic Candles
Crafted from organic beeswax, our hand-poured, clean-burning and biodegradable candles are designed with a crackling FSC-certified wood wick and infused with essential oils. Beeswax is the longest burning natural candle wax, with our candles burning 45+ hours. 
Our 8 oz. beeswax and coconut oil candles are hand poured by us at our small farm in Arkansas. We only use essential oils (no synthetic fragrance oils) to emit the cleanest burn possible. Our candles come in a reusable, recycled amber glass jar, with a biodegradable cork lid, and labelled with biodegradable sugarcane labels.
Candles burn 45+ hours thanks to the beeswax!
More About Our Beeswax Candles
Beeswax is the cleanest burning and most sustainable candle wax. It even releases negative ions which bind with toxins and cleanse the air! Beeswax has the highest melting point of all waxes, making it burn longer than traditional paraffin wax candles. They also emit cozy ambient light.

Adding coconut oil to our candles lets them burn smoothly and evenly which helps emit the scent of the essential oils. Please note: because we use all natural ingredients (including essential oils), our candles will not have the strong scent throw of a traditional synthetic candle. Instead, the scent will be milder and more natural. The essential oil scent will fill a small to medium sized room beautifully.

The color of beeswax varies depending on what the bees foraged on. As a result, candle wax colors can vary from cream colored to dark gold.
Our Different Essential Oil Scents
Eucalyptus Rosemary: Enjoy the aromatherapy benefits of clear airways and brain fog reducing eucalyptus partnered with the stress and fatigue fighting benefits of rosemary. This candle is perfect for promoting mental clarity and relaxation.

Citrus Garden: Enjoy the aromatherapy benefits of mood brightening grapefruit, cleansing lemongrass, and relaxing lavender! This candle is perfect to curl up next to with a book or to light after cleaning the house for an extra fresh feeling.

Bulgarian Lavender: The ultimate relaxation candle. Let the soothing effects of organic bulgarian lavender essential oil wash over you. Perfect for lighting before an evening soak in the bath after a long day. Or burning at your desk while you work to promote a calm demeanor.

Herbal Remedy: Top notes of citrusy lime, heart notes of ylang ylang and base notes of patchouli. The perfect herbal remedy to clear the mind. Ylang ylang is often used in aromatherapy for memory and thinking skills.

Sakura Moon: Made from our very own signature essential oil blend to mimic the scent of cherry blossoms. Top notes of Wild Chamomile, Mandarin, Neroli. Heart Notes of Jasmine, Blue Lotus, Rose, Bay Leaf, Lavender. Bottom Notes of Sandalwood, Vetiver, Vanilla, Cedarwood. All pure essential oils, no fragrance!

Lavender & Sage: A blend of organic bulgarian lavender and sage essential oils. Smells like fresh, clean laundry and relaxation.
Our Eco-Friendly Commitment
Beeswax and coconut are both considered highly sustainable and renewable natural resources. Our candles are poured into reusable glass mason jars. Our labels and their adhesive are non-toxic and made from sugarcane.
We use all-natural wood wicks that come from USA-based mills that maintain an FSC certification and practice environmentally friendly forestry standards.
We ship products in compostable, recycled mailers using carbon-neutral shipping. From the packaging to the product itself, everything is non-toxic and eco-friendly. We love our environment!
Ingredients
Ingredients: Organic beeswax, coconut oil, and essential oils