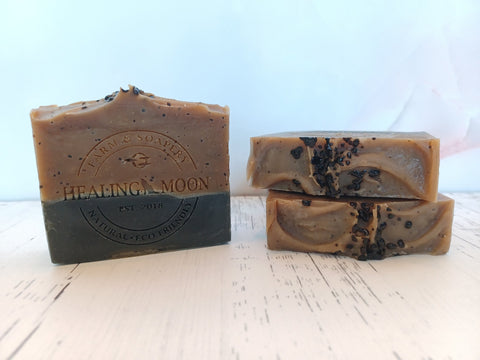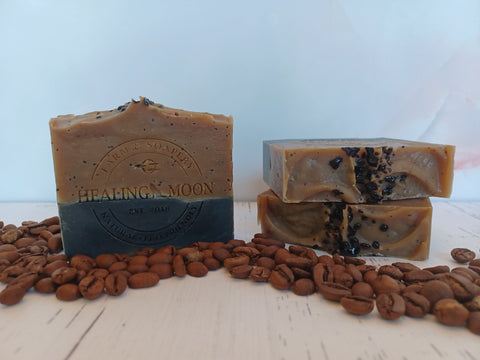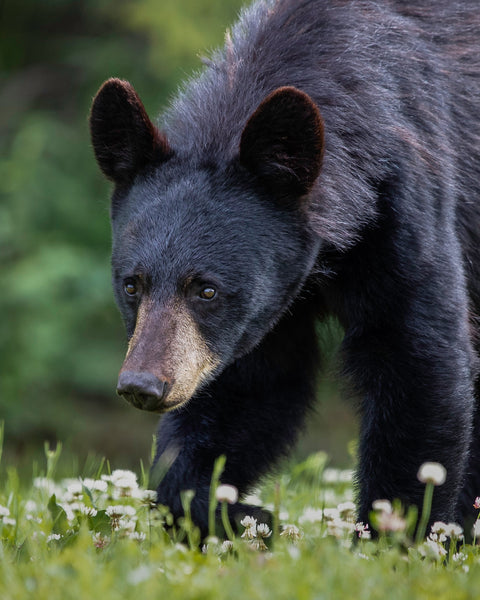 Healing Moon Farm & Soapery
Black Bear Coffee
Vegan - Coffee - Exfoliating - Strongly Scented - Palm Free
This soap is part of our Arkansas Wilderness Collection.
Made for true coffee lovers! We were inspired by the young black bear who roams our small farm and ranch. We lovingly call him Teddy. We made this soap with freshly brewed coffee, fresh coffee grounds, charcoal, and a thin white line to match Teddy's coat. All natural coffee, elemi, and sandalwood essential oils strongly scent these bars. We even sprinkled the top with freeze dried coffee (it will brew a couple drops in the shower the first time you use the soap).
Key Ingredients:
Coffee Oil
Elemi Essential Oil
Sandalwood Essential Oil
Brewed Coffee
Coffee Grounds
Freeze-dried Coffee
Activated Charcoal
Palm Free
You can see video of Teddy on our Youtube channel here.
You can read more about our Arkansas Wilderness Collection, here.
Our Eco-Friendly Commitment
All soaps come shrink wrapped for freshness in 100% home compostable, oxo-biodegradable, food safe, Biolefin™. This shrink wrap decomposes in 3-5 years compared to most shrink wrap plastics which take decades in the landfill. Our labels and their adhesive are made from sugarcane.
We ship products in compostable, recycled mailers using carbon-neutral shipping. From the packaging to the soap itself, everything is biodegradable and eco-friendly. We love our environment!
Ingredients
Ingredients: coconut oil, canola oil, olive oil, sodium hydroxide*, mango butter, brewed coffee, coffea arabica (coffee) seed oil, canarium vulgare (elemi) oil, santalum album l. (Sandalwood) oil, activated charcoal, coffee grounds, freeze dried coffee, vitamin E and titanium dioxide
*None remains after saponification of oils
Read more about our sustainable and eco-friendly ingredients
Our standard soaps measure approximately 3 inches x 3 inches x 1 inch. Because soaps are handmade, sizes and colors may vary slightly. Our soaps weigh 4.5oz on average. Due to the use of natural ingredients, you may notice scent and color fade over time, learn more on our FAQs page.
These statements have not been evaluated by the FDA. This product is not intended to diagnose, treat, cure, or prevent any diseases or conditions. Please consult your doctor if you have any concerns.