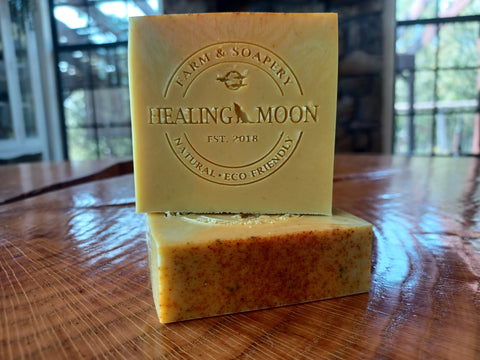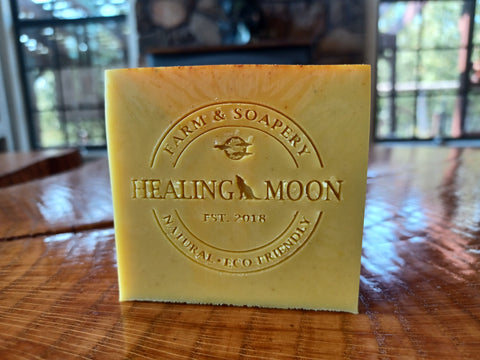 Healing Moon Farm & Soapery
Goat Milk + Lemongrass
Extra Sensitive - Lemongrass - Turmeric - Chamomile - Minty
Goat Milk + Lemongrass is a skin-calming formula powered by goat milk, turmeric, spinach, lemongrass, German chamomile, and peppermint extracts. This specialized blend of natural ingredients, coupled with the moisturizing, creamy texture of goat milk, helps soothe and nourish skin. We formulated this soap with Psoriasis and Eczema in mind for our extra sensitive skin customers. 
Key Ingredients:
Goat Milk
Organic Turmeric Root
Spinach
Organic Lemongrass Essential Oil
German Chamomile Essential Oil
Organic Peppermint Essential Oil
Vegetable Glycerin
Our Eco-Friendly Commitment
All soaps come shrink wrapped for freshness in 100% home compostable, oxo-biodegradable, food safe, Biolefin. This shrink wrap decomposes into beneficial biomass instead of micro-plastics. Our labels and their adhesive are made from sugarcane and hemp bi-product to reduce agro-waste.
We ship products in compostable, recycled mailers using carbon-neutral shipping. From the packaging to the soap itself, everything is biodegradable and eco-friendly. We love our environment!
Ingredients
goat's milk, oat protein, coconut oil, sustainable palm oil, safflower oil, glycerin (vegetable), purified water, sodium hydroxide*, sorbitol (vegetable), bio propylene glycol (plant-based), sorbitan oleate (from olive oil), organic turmeric root, spinach, organic lemongrass essential oil, organic peppermint essential oil, and german chamomile essential oil
*None remains in final bar
Read more about our sustainable and eco-friendly ingredients
Our standard soaps measure approximately 3 inches x 3 inches x 1 inch. Because soaps are handmade and hand cut, sizes and colors may vary slightly. Our soaps weigh 4.5oz on average.