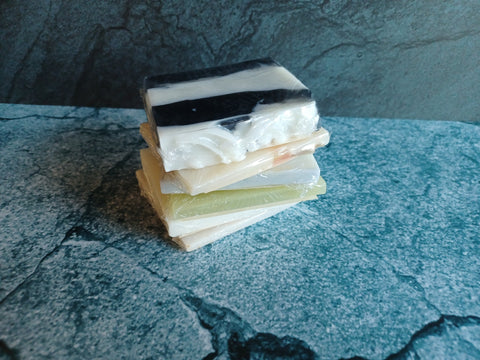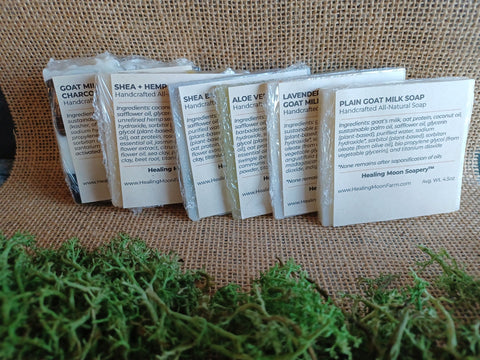 Healing Moon Farm & Soapery
Assorted Soap Ends
Assorted - Soap Ends - Sample Size - Travel Size
Assorted soap ends are perfect for gifting, trying out a variety of our soaps, or travelling! We individually wrapped and labeled each soap end, so if you have a favorite, you can always order more ;)
Soap ends will be different sizes and colors so we bundle by weight. Each pack will contain 4.5 - 5 oz of soap and be tied together with an adorable jute cord bow. Enjoy!
Our Eco-Friendly Commitment
All soaps come wrapped for freshness in 100% home compostable, oxo-biodegradable, food safe, Biolefin™. This shrink wrap decomposes into beneficial biomass (NOT micro plastics) in 3-5 years compared to most shrink wrap plastics which take decades in the landfill. Our labels and their adhesive are made from sugarcane.
We ship products in compostable, recycled mailers using carbon-neutral shipping. From the packaging to the soap itself, everything is biodegradable and eco-friendly. We love our environment!
Ingredients
Each soap in the bundle will be individually labeled with a full ingredients list.
Read more about our sustainable and eco-friendly ingredients
Our standard soaps measure approximately 3 inches x 3 inches x 1 inch. Because soaps are hand cut, sizes may vary slightly. Our soaps weigh 4.5oz on average.
These statements have not been evaluated by the FDA. This product is not intended to diagnose, treat, cure, or prevent any diseases or conditions. Please consult your doctor if you have any concerns.